Camping in the Landes with swimming pool, at Sanguinet
A unique pool area in the Landes region dedicated to swimming, water games and lounging! Our campsite in the Landes at Domaine Les Oréades offers swimming pools and ponds of all sizes and for all ages.
4 pools and basins, in the heart of the Landes region
Domaine des Oréades is a campsite with swimming pool in the Landes, nestled in the heart of nature and surrounded by pine trees. As well as superb modern mobile homes on the shores of Lac de Sanguinet, you'll find several pools and ponds to suit all ages and tastes.
Discover our different pools and ponds and enjoy your family vacation:
1 heated outdoor pool
1 adults-only Balneo pool (with whirlpool bath)
1 indoor heated swimming pool for swimming even in the off-season
1 paddling pool for the little ones
1 Aqualudic area with water games for children
An ideal temperature
Whether for summer or winter vacations, take advantage of this campsite in the Landes with heated swimming pool.
In Sanguinet, enjoy the pleasures of the water all year round. With an aquatic area featuring two heated outdoor pools and a heated indoor pool, there's no need to worry about the cold or the rain.
Enjoy unique moments in the water and by the pools during your stay at Domaine Les Oréades, in the Landes region of France.
A Balneo pool reserved for adults
Our campsite in the Landes has a heated outdoor balneotherapy pool.
After your activities exploring the Landes region, take advantage of the whirlpool baths, waterfall showers and water cannons.
This area is reserved for adults only, and is secluded to ensure calm and relaxation.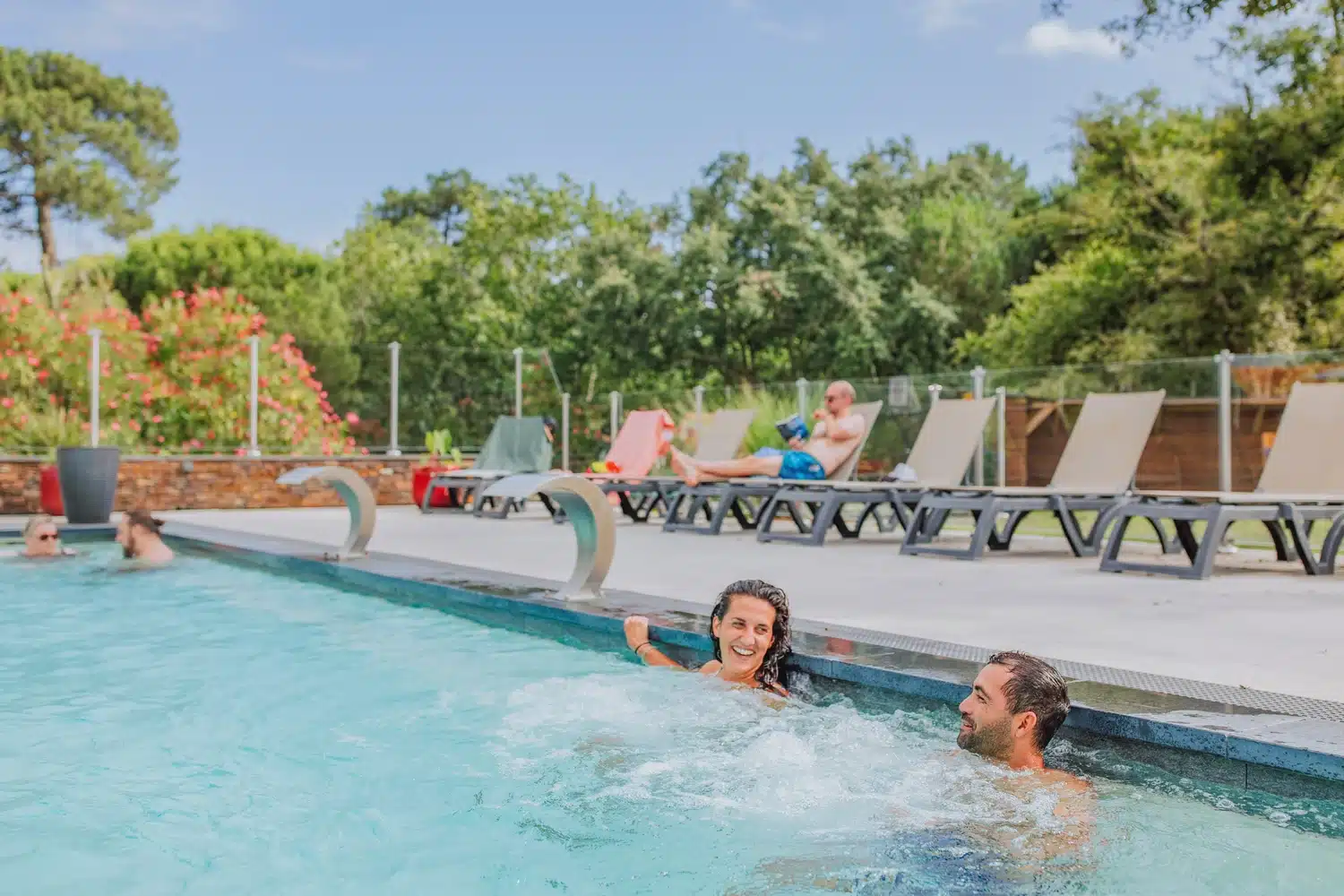 Child-friendly aquatic spaces
Your children will have their own aqualudic area where they can have fun with small fountains and water games. The Aquatoon has a host of water-spraying games and facilities for your children's enjoyment.
These water games are located next to the children's park, which also offers games, but this time in the dry.
The paddling pool, located not far from the large heated pool, is shallow enough for young children to familiarize themselves with the water.
An ideal place for the whole family at this campsite in the Landes with swimming pool.
Caton beach, Lac de Sanguinet, Landes
Our campsite in the Landes with swimming pool has direct access to Lake Sanguinet. In just a few steps, you'll be speechless at the beauty of Caton beach, the most beautiful beach on Lac de Sanguinet, with its postcard-perfect scenery.
This superb lake, surrounded by Landes pines, offers shade from the trees on a superb white sand beach.
The Caton beach is accessible for wheelchairs and strollers.
A hut is located on the beach and offers equipment rental for water sports activities.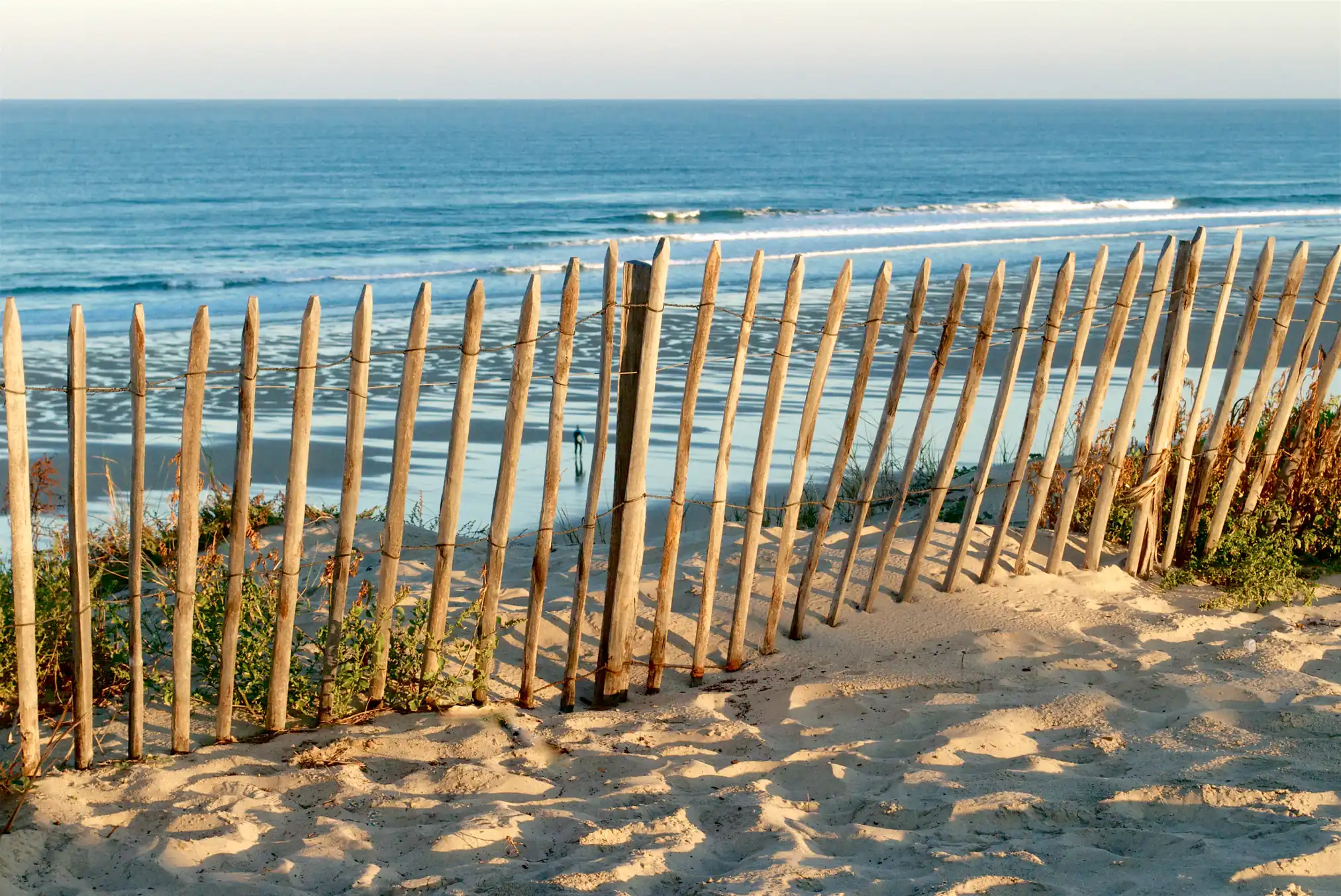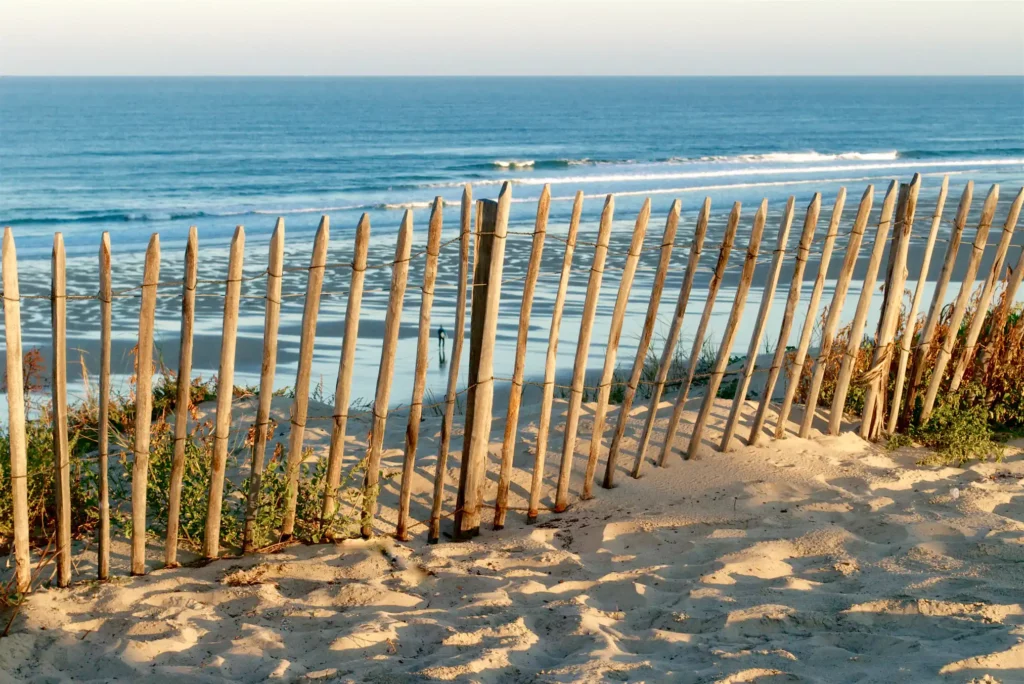 Atlantic Ocean beaches
The Domaine des Oréades offers a number of advantages: it has several swimming pools, is located on the shores of a lake, and is less than 30 minutes from the Atlantic Ocean. The beach at Biscarrosse , with its vast expanses of fine sand, is just around the corner.
So, on the same day, you'll be able to take advantage of all the assets of this campsite in the Landes with swimming pool: the ponds and pools, the lake and the ocean!
Practical information about this campsite in the Landes with swimming pool
The campsite swimming pool is open from 10am to 8pm in July and August, and from 10am to 6pm in low season.
The water is heated from April to October, guaranteeing all-season swimming during your stay.
The whirlpool is for adults only.
Toddlers must be supervised in the paddling pool.
Swimming shorts are forbidden in the campsite's aquatic area, only briefs or boxer shorts are allowed.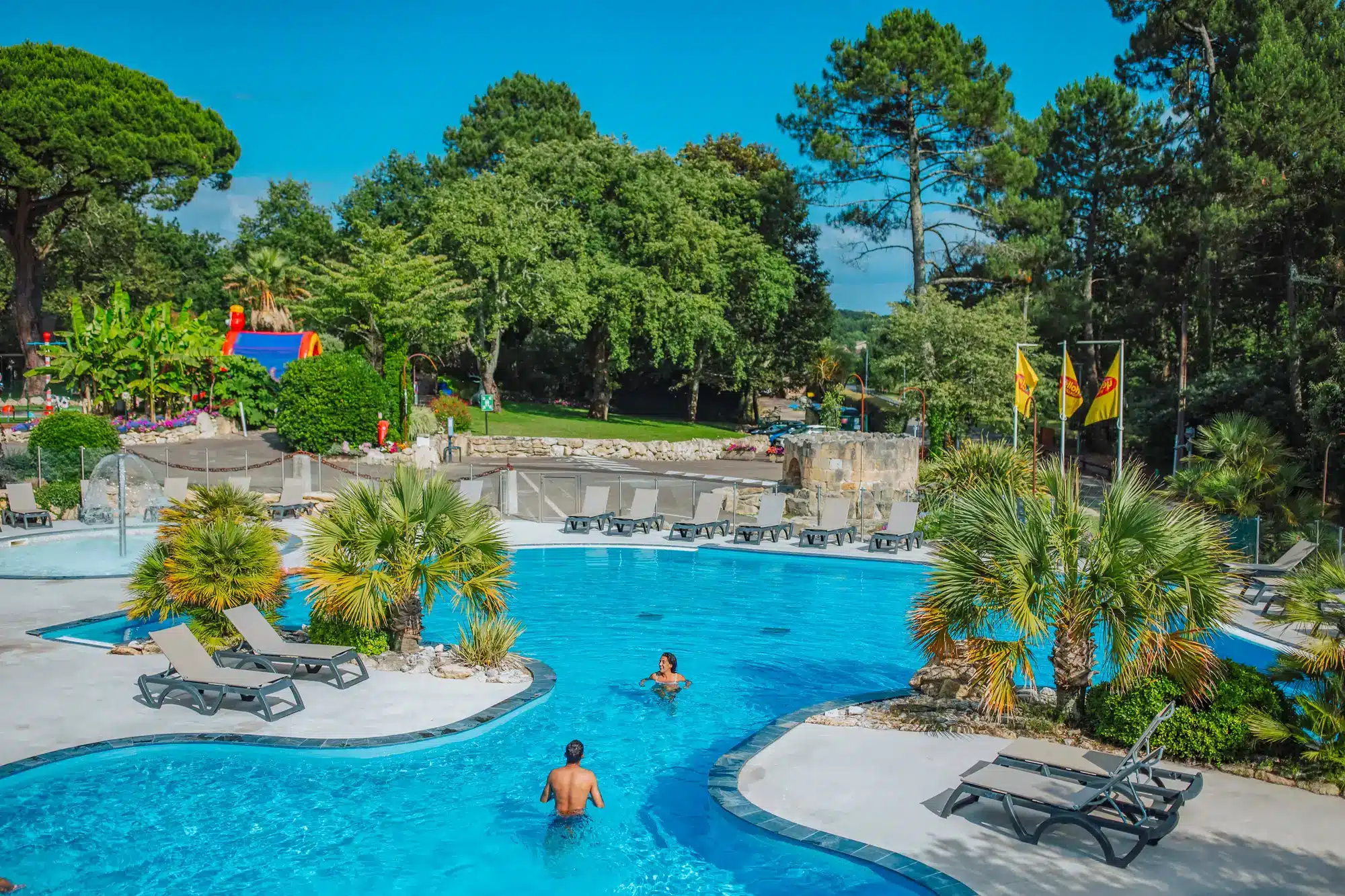 What do our customers think about swimming pools?
[…] Clean, pleasant pools, heated to a good temperature (July), indoor pool and a second, very pleasant pool reserved for adults . […]
Marta - August 2023
Lovely, quiet campsite, well laid out with plenty of space between the mobihomes, not overlooked. Beautiful aquatic area with a plus for the balneotherapy pool reserved for adults… Privileged lakeside location with direct access to the bike path. Ideal for visiting the Great Lakes region and the Arcachon Basin.
Virginie - August 2023
Very well located on the shores of Lake Sanguinet. Perfect pagoda. Jacuzzi, water park and top-notch maintenance. Very green. And above all, calm… Off-season is what we were looking for. We'll be back.
Elisa - Sept 2022
Discover our services, activities and events, and our accommodation!