Sanguinet: the Voix de Losa Spring Music Festival
Sanguinet celebrates the arrival of fine weather on Saturday April 9, 2016 with the Printemps musical organized by the Voix de Losa choir. (See also: Sanguinet: paella and disco to get the winter out of the way).
Sanguinet's village hall will soon be echoing to the songs of the Voix de Losa choir (and its guests), who are organizing a musical and convivial evening in the form of a cabaret on Saturday, April 9, 2016 from 6:30pm.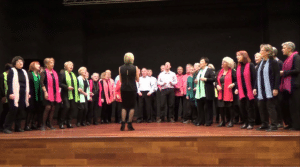 The program for your evening in Sanguinet
Part 1 :
Les voix de Losa: gospel jazz choir from Sanguinet ;
Sanguinet harmony;
Los de Qui Cau.
Part 2:
Désordre vocal : CRABB vocal ensemble from Biscarrosse ;
Ellip's saxophone quartet from Gujan-Mestras.
Practical information
Reservations required: reservation form to download and send, with payment made out to the Chorale des Voix de Losa, to the Tourist Office, 1 place de la mairie – 40460 Sanguinet. Telephone: 05 58 78 67 72.
Prices: evening with tapas plate served at intermission: €12 ;
Free for minors.
On-site bar selling sandwiches, pastries and drinks.
Further information: 06 80 13 48 07 or 06 26 06 13 28 or Choralevoixdelosa40@orange.fr