Water walking, a sport for all in the Landes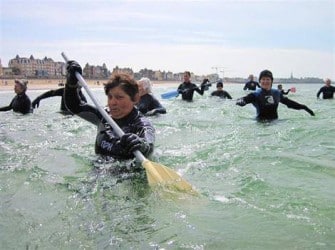 You've decided to spend your vacations by the Atlantic Ocean and you're no longer 20…
Among the gentle activities available to you, such as walking around Lac de Sanguinet, there's now water walking, also known as longe-côte.
Originally practiced on sandy beaches in northern France, this sport involves walking in water up to the diaphragm, using a kayak-type paddle.
The principle? Hiking in the open sea, once the water is up to your waist.
And the paddle? Longe-côte is to the sea what cross-country skiing is to the mountains. The paddle serves as a support, facilitating the sequence of leg movements in complete immersion, as well as the crossing of waves.
What equipment?
In addition to the paddle, the equipment is that of any person evolving in marine environment to be adapted according to the seasons:
A wetsuit for diving or windsurfing;
Sailing or diving shoes.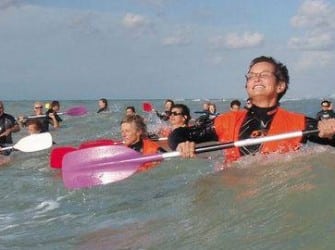 Is it good for your health?
More than that! Practicing in an aquatic environment allows you to work in weightlessness, thereby relieving weight-related joint constraints, particularly in the lumbar region and lower limbs.
Longe côte also helps to strengthen the muscles:
The abdominal strap;
Upper body;
The back.
— > Note that this sport is excellent for blood circulation. In fact, this practice promotes venous return, with the not inconsiderable consequence that your legs feel lighter after the session.
Would you like to spend your vacations in the Landes? Don't hesitate to contact the team at Domaine Les Oréades, a residential campsite open all year round.
A wide choice of mobile homes here.