Campsite with private Jacuzzi in the Landes, 2 steps from Lac de Sanguinet
Nestling between the ocean and the forest, Les Oréades campsite in the Landes is a place dedicated to relaxation under the Landes sun. Located close to many of the region's points of interest and just a stone's throw from Lac de Sanguinet, our campsite offers 5-star quality services.
You'll be seduced by the surrounding nature , ideal for helping you combine pleasure, relaxation and disconnection.
The advantages of our campsite with private jacuzzi in the Landes
Make the most of your vacation and its relaxing benefits, just a stone's throw from Lac de Sanguinet in the Landes region of France.
Domaine Les Oréades has everything you need for a great vacation: 5-star service, several pools including a Balneo pool, activities for the whole family, restaurant, quality accommodation with private spa… surrounded by nature and forest, in the shade of Landes pine trees.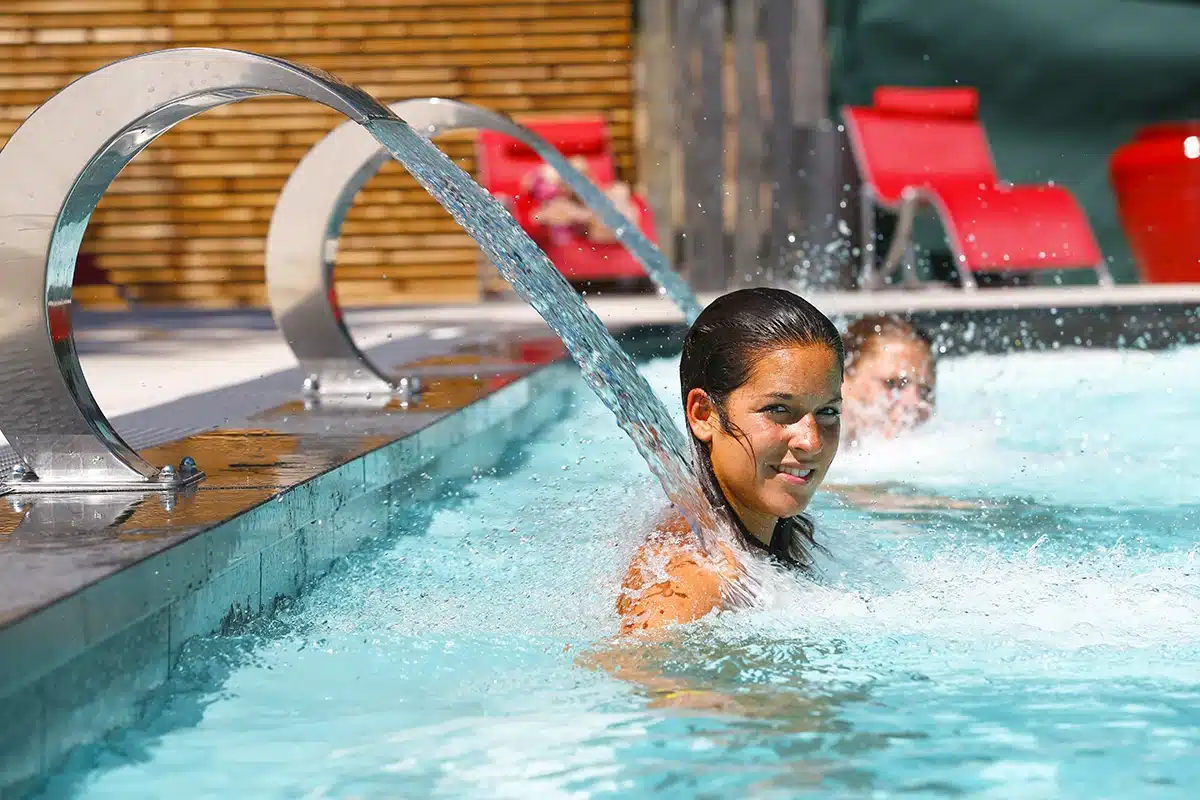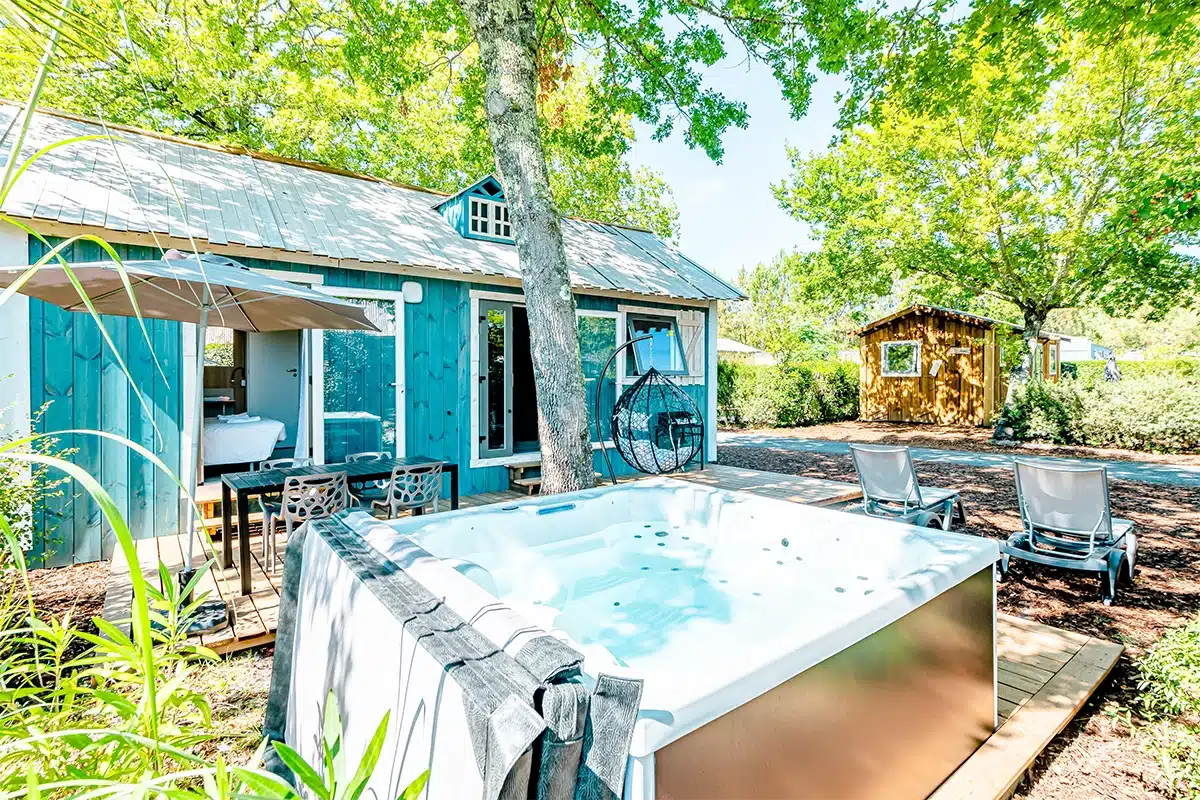 Types of accommodation with private Jacuzzi
The campsite with swimming pool in the Landes offers 3 types of accommodation.
2 of them offer accommodation with a private spa / jacuzzi.
The opportunity to make the most of your camping vacation while admiring the Landes pines from your private jacuzzi.
The pagoda garden
Our atypical pagodas offer a chic ambience and sober design, just as if you were staying in a hotel. These accommodations really stand out from those seen at other campsites. Set in a landscaped garden with trees, you are surrounded by nature.
Pagodas are located in a pedestrian-only zone. Unlike some areas, such as those for mobile homes, the Pagodas are close to services. You can quickly access the swimming pools and restaurant from here.
The campsite's Pagodas with private Jacuzzi have 1, 2 or 3 bedrooms, so the choice is yours.
Fishermen's huts
Experience an unusual type of camping accommodation with the Cabanes de pêcheurs at this campsite with private Jacuzzi in the Landes. At one with nature, you'll live in cabins inspired by the Cabanes Tchanquées of the Bassin d'Arcachon.
These exclusive Domaine des Oréades accommodations, ranging in size from 35 m2 to 40 m², are sure to delight young and old alike. We also offer a more traditional range of mobile home rentals in the Landes.
Activities and services at our campsite with private Jacuzzi in the Landes
The Domaine has an aquatic area with 4 pools of different sizes and water games for children.
The large heated outdoor swimming pool is ideal for the whole family, and its temperature is a real asset to ensure that everyone gets the most out of their time in the pool.
A whirlpool spa pool is located outside. It is reserved for adults over the age of 18. Ideal for relaxing and alternating moments with your private Jacuzzi.
Children can splash around in the paddling pool next to the main pool. An area with water games, called "Aquatoon", will delight your children.
A duller day? a heated indoor swimming pool.
La Table du Domaine is the campsite restaurant, open to all, just a stone's throw from Lac de Sanguinet. Enjoy gourmet local cuisine at any time of day, and take advantage of the terrace for lunch and dinner.
Themed evenings with more exotic cuisine are sometimes offered. On-site services are available. Everything has been designed to make your day-to-day life easier and your stay more enjoyable at our Les Oréades estate in Les Landes. Bicycle and plancha rental, laundry, grocery store, Wi-Fi, breakfast, bar, restaurant with takeaway, baby kit… Please contact us for further details.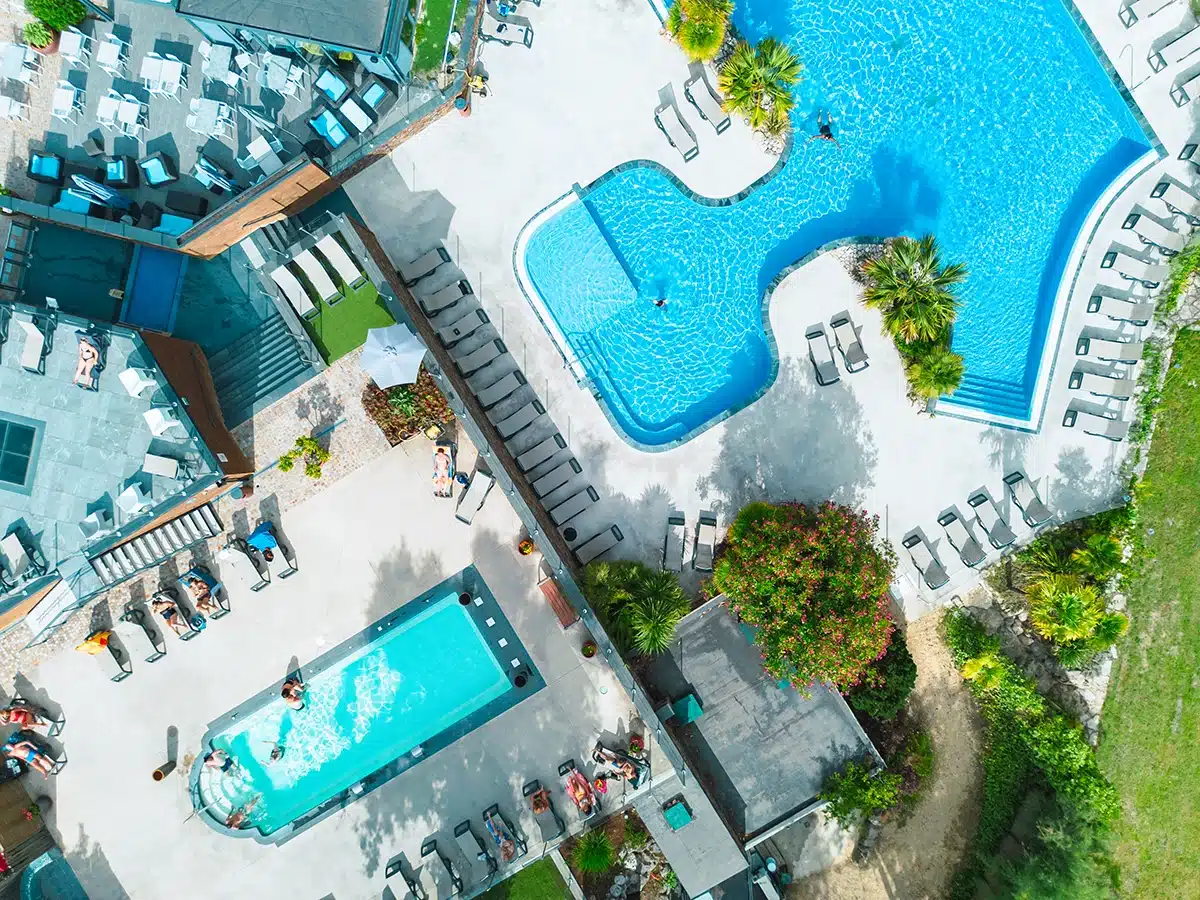 Discover our aquatic area, our services and our accommodation!