Mobile home rentals in Sanguinet, 2 steps from the lake
In our charming mobile homes at Domaine Les Oréades, a 5-star campsite in the Landes, you'll enjoy fully-equipped accommodation and a beautiful outdoor area, in the heart of the Landes and with direct access to Lac de Sanguinet. Classic or Premium with a view of the lake and a private Jacuzzi, 1 bedroom or up to 5 bedrooms, choose the mobile home rental in Sanguinet that suits your needs for your vacation.
Types of rentals at our 5-star campsite
Several styles of mobile homes are available for rent at our Sanguinet campsite. Mobile homes are primarily classified by range, 3 flowers, 4 flowers or Premium, and are differentiated not only by their surface area, but also by the services and equipment available in your mobile home rental in Sanguinet.
Unusual accommodations inspired by the cabanes tchanquées on the Bassin d'Arcachon are also available for rent. You can also choose a rental with a private spa/jacuzzi to enjoy moments of peace and quiet under the Landes pines. The Jardin des Pagodes accommodation, known as "Cottage Pagode", offers mobile home rentals in Sanguinet in a car-free area of the Domaine Les Oréades. Quiet yet close to the lake and swimming pools, and resolutely modern, these accommodations are well worth a visit. Some accommodations are also suitable for families, with up to 5 bedrooms.
Each accommodation is equipped with air conditioning and a terrace to make your stay as pleasant as possible.
Domaine Les Oréades campsite in Sanguinet, Landes
Domaine Les Oréades is a 5-star campsite in Sanguinet, in the northern Landes region, halfway between Biscarrosse and La-Teste-de-Buch, and thus close to the Dune du Pilat.
By renting a mobile home in the Landes, you benefit from this ideal location between the Gironde and the Landes, allowing you to take advantage of all the assets of these 2 departments of the Nouvelle-Aquitaine region.
The advantages of renting a mobile home in the Landes at Sanguinet
New mobile homes in a 5-star campsite
Greenery and shadows around mobile homes
Various rentals to make your stay easier
Large living areas open onto nature
Heated pool, indoor pool, paddling pool andchildren's play area
Direct access to the lake with its beach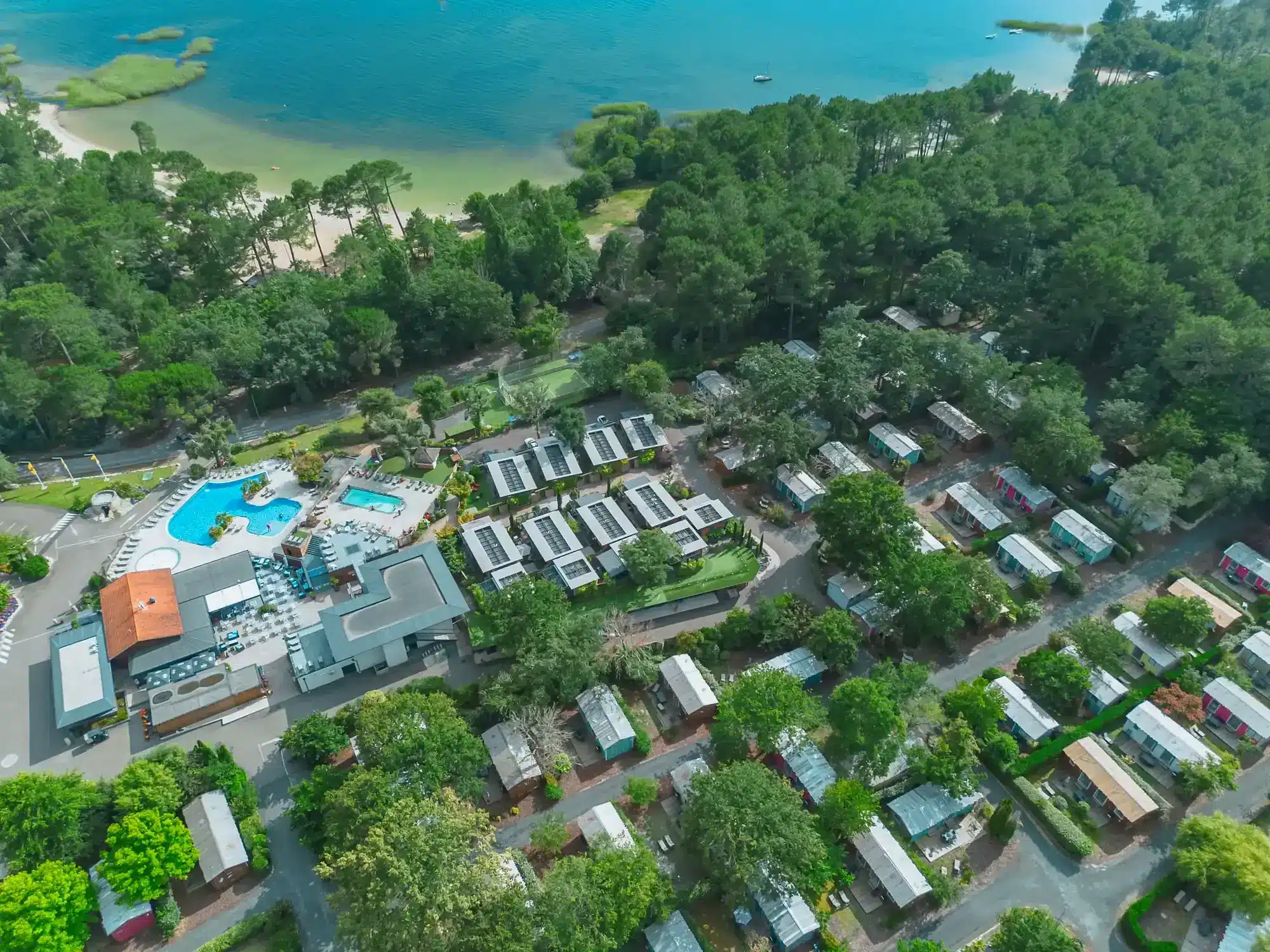 Swimming pools
4 swimming pools and ponds are located near the mobile homes for rent in the Landes, at this Sanguinet campsite.
The Domaine des Oréades boasts an aquatic area with a large heated swimming pool ideal for the whole family, a Balneo pool with whirlpool baths reserved for adults, and a covered heated pool for rainy days or off-season use.
Children can enjoy the Aquatoon, an outdoor water feature that sprays water to keep them cool and entertained, and a paddling pool next to the large heated pool. The aquatic area, suitable for all ages and tastes, is a must.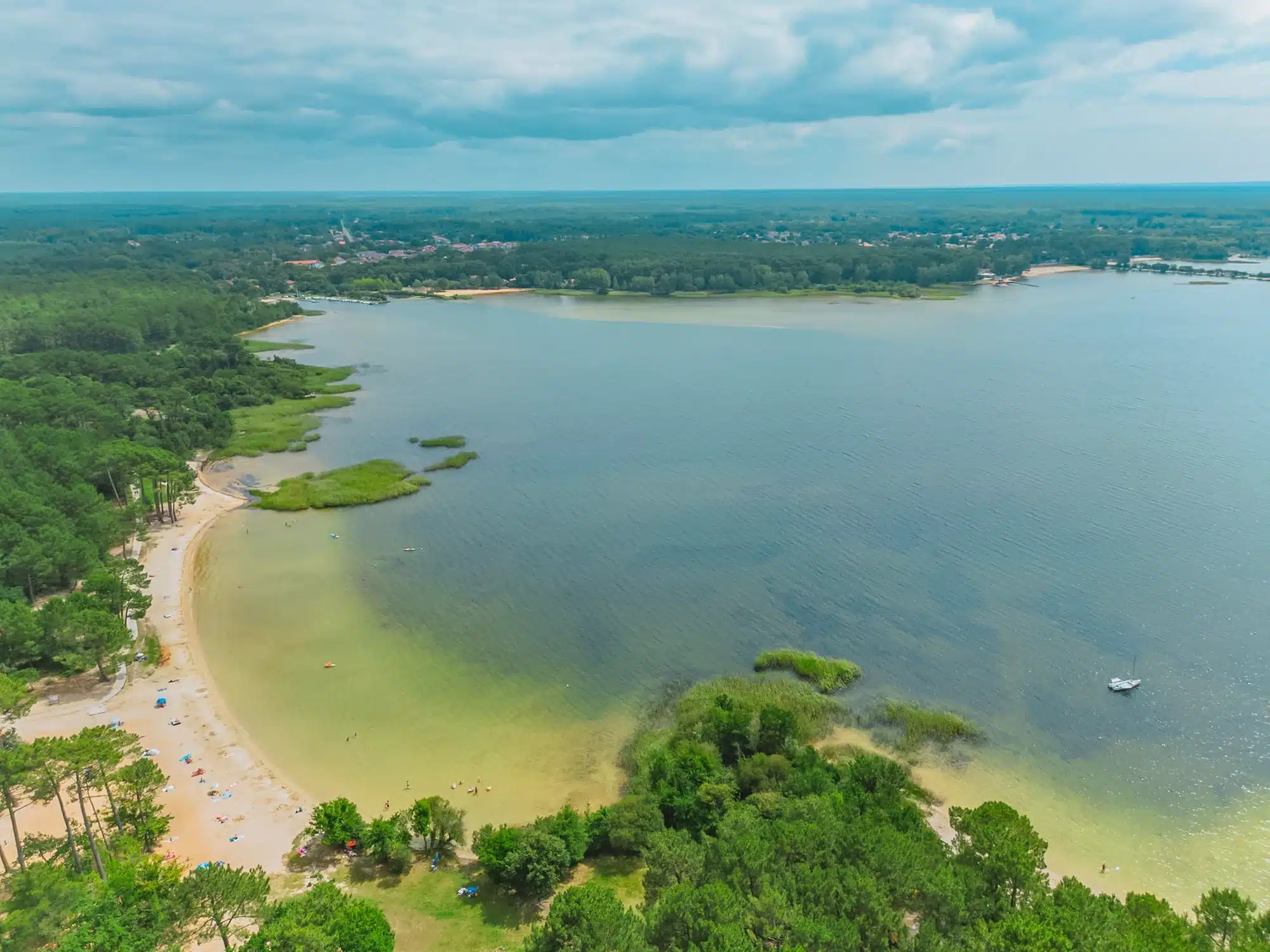 Direct access to Caton beach,
from your mobile home rental in Landes
Lake Sanguinet is directly accessible from the Domaine les Oréades campsite, a real asset when choosing your mobile home rental in Sanguinet. This lake, France's 2nd largest, is bordered by pine trees and Caton beach.
This spacious beach, shaded by Landes pines, is also accessible to people with reduced mobility and strollers. An undeniable asset for everyone to enjoy the beach during your stay.
A cabin offering water sports activities is also available for family fun. The advantage of the Lac de Sanguinet near your mobile home rental is that it's easy to cool off and the calm water is ideal for children. A real asset for a successful stay.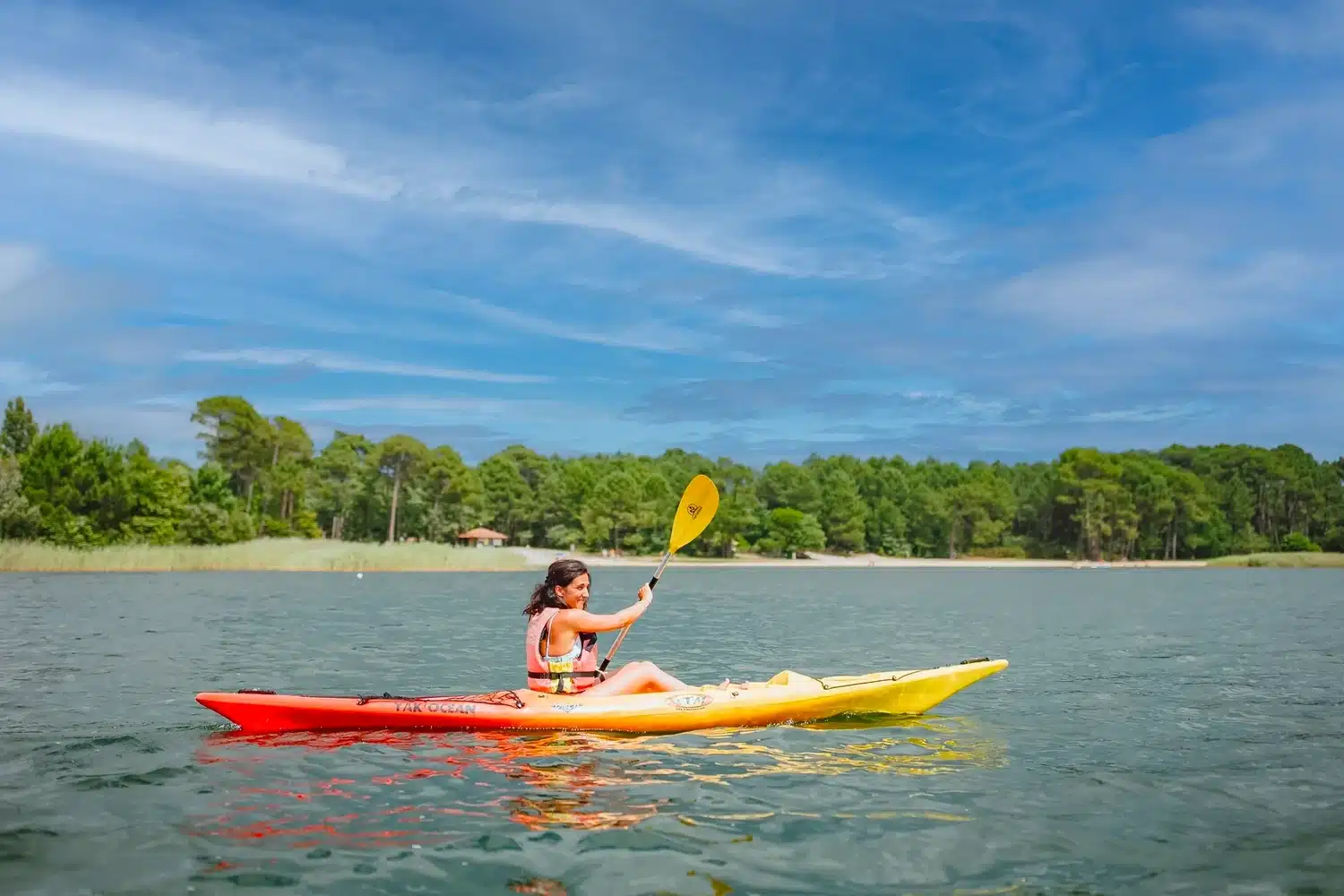 Nearby activities
The geographical location of Domaine les Oréades offers many possibilities for activities and visits close to your mobile home rental in Sanguinet.
The Atlantic Ocean is just a few kilometers from the Domaine. The Landes offers long beaches and lots of forest, and activities in the heart of nature or on the beaches of lakes and the ocean guarantee great memories and good times with the whole family.
The campsite also offers a wide range of activities on the estate. Bubble-football, dance classes, gym classes, fitness, pedal go-karting and water polo are just a few of the activities on offer near your Landes mobile home.
Domaine Les Oréades also boasts a pétanque court and a multi-sports field. You can go canoeing and stand-up paddling directly on Lac de Sanguinet. No fewer than 11 activities are also within 5 kilometers of the campsite: fishing, sailing and windsurfing courses… you'll be spoilt for choice for your vacation.
What do our customers thinkof our campsite ?
This Pagoda mobile home with its adjoining Jacuzzi is a real treat. The mobile home is spacious, the outdoor areas around the pagoda are very well thought out, and the plancha is perfect for entertaining friends. Most of the facilities are very recent and the staff very pleasant. In short, a campsite like we love them. The proximity of the Lac du Sanguinet makes it hard to beat the combination of pool and lake.
François G. - August 2023
More
–Very spacious locations for both premium and classic mobile homes.
Very spacious fisherman's hut with jacuzzi, semi-shaded location (at lunchtime we play a bit with the parasol, but we get there), real space for the car, deckchairs, table and plancha. Well-appointed interior, with plenty of storage space in bedrooms and kitchen.
–Immediate proximity to the lake beach, a real plus for the campsite! Excellent for young children!
Marta L. - August 2023
1 week spent this summer in a fisherman's hut, very spacious and clean, well shaded and quiet location, very pleasant! The campsite is clean and the pools are pleasant, as are the entertainment staff,
Blandine T. - September 2022