Where can you see cranes in the Landes?
The figures are in! According to counts carried out on January 4, there are currently 35,000 birds on the Landes plateau! But where to see the cranes in the Landes? We tell you all about it!
Every winter, almost 40,000 cranes spend the winter in the Landes region, making it one of Europe's most important wintering areas. From November to February, all you have to do is look up to see and hear these spectacular groups crossing the sky.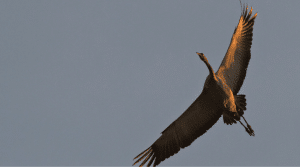 Where can you see cranes in the Landes?
Cranes can be seen during the day in the cornfields where they find their food on the :
Saint-Martin-de-Seignanx ;
Losse ;
Captieux ;
Green ;
Lugos ;
Lacanau.
Knowing the bird, maintaining the conditions in which it thrives, and discovering it on the sly are the tools for its preservation. The Chamber of Agriculture, the Conseil Général des Landes, the LPO Aquitaine, the Fédération des chasseurs des Landes, the Parc naturel régional des Landes de Gascogne, the reserve of Arjuzanx (40) and of the étang de Cousseau (33) created the group Grus-Gascogna which organizes outings and weekends dedicated to crane-watching.
These activities, supervised by organizers, are part of a shared approach to species conservation, in which raising public awareness is a key element.
Why do cranes come to the Landes?
Sandhill cranes nest in northern Europe. In autumn, they regroup and set off on a long journey from Scandinavia and northern Germany to the Iberian Peninsula. Ideally located on the migration corridor, the Landes de Gascogne welcome large numbers of wintering cranes.
Spend your vacation in the Landes with Les Oréades