Fishing in Sanguinet: all you need to know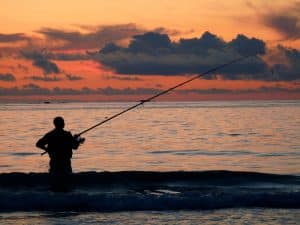 What to do in Sanguinet in spring Fishing, of course! The 55 km2 Lac de Sanguinet, France's second largest lake, and the surrounding rivers are a fisherman's paradise.
Numerous fish species are present, including pike, zander, perch, carp, tench, trout and blackbass…
How to fish in Sanguinet
To fish in Sanguinet, you need a fishing licence. You can buy it in Sanguinet at La boutique de la pêche, 128 avenue des Grands Lacs, or online at cartedepeche.fr.
Where to fish in Sanguinet?
To fish legally, we advise you to contact the Association agréée de pêche et de protection du milieu aquatique (AAPPMA) du lac de Sanguinet, which will tell you where to fish. These include :
Piscicultural domain: 2nd category private domain on the lake, including 1,810 communal hectares managed by the AAPPMA. The Gourgue, Canal and Arieste rivers represent 12 kilometers of private 2nd category land.
Fishing reserves: private 2nd category estates with a permanent reserve on the 24 ha Put blanc site.
When to fish in Sanguinet?
January 1st to 25th: pike, perch, black-bass, zander ;
March 14 to September 20: Trout;
April 1 to August 31: eels (for the Adour basin and coastal rivers, which cover almost the entire Landes département, yellow eel fishing is open);
Attention, pour le bassin des Leyres dans le département des Landes, la pêche de l'anguille jaune est ouverte :

1st fish category: May 1 to September 20 ;
Fish category 2: May 1 to September 30 ;
Maritime zone: May 1 to September 30.

May 1st to December 31st: pike, perch, black-bass, zander ;
December 1 to 31: watercourses classified as 2nd category.
What fishing techniques are available in Sanguinet?
Among the various fishing techniques available, you can try your hand at live-fishing, rowing, light casting, boat trolling, fly-fishing and jigging.
Which accommodations in Sanguinet have the "fishing" label?
On the shores of Lac de Sanguinet, in the heart of the Landes region and close to the beaches of the Atlantic Ocean, Domaine Les Oréades welcomes anglers all year round!
Important: before taking the plunge, we advise you to contact Mr Jean-Yves Delauney of the Association agréée de pêche et de protection du milieu aquatique (AAPPMA) du lac de Sanguinet on 06 82 85 78 61 or by e-mail: jyd.aappma@orange.fr
photo credit: Surfcasting at Curnic