Gastronomy: the Landes has the highest number of products with a quality label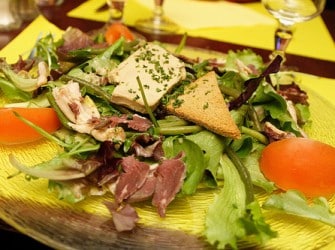 After an exceptional Indian summer, autumn is slowly settling in on the Domaine des Oréades in Sanguinet, Landes. See you next year at the Oréades spa, the supervised beaches in September in the Landes or Bisc' aventure: an accrobranche park next to sanguinet… Now it's time for the top 5 museums in the Landes, a 5-point plan for your mobile home and some home-cooked meals!
Good news! Les Landes is the French department with the highest number of agricultural products recognized with a quality label. There are seven of them:
Farmhouse duck from the Landes (Label rouge) ;
Poultry from the Landes region (Label rouge and IGP), with Saint-Sever farmhouse chicken particularly well known (Label rouge);
Chalosse beef (Label rouge and IGP);
L'Asperge des Sables des Landes (IGP);
Adour kiwifruit (Label rouge and IGP);
Tursan wines (AOC) and IGP des Landes ;
Armagnac and Floc de Gascogne (AOC).
— > It should be noted that the defense and promotion of Landes gastronomy is carried out by Qualité Landes, a departmental association founded by the Conseil général des Landes and the Landes Chamber of Agriculture.
These are the main ingredients used to prepare the dishes for which Landes cuisine is renowned. The star? The duck! Many people in the Landes region raise them or buy them whole each year for canning. Fat markets are legion, the most important being Amou, Dax, Peyrehorade and Mont-de-Marsan. All parts of the duck (but also of the goose) are eaten. The most popular preparations, however, remain :
Foie gras (cooked, semi-cooked or fresh);
Breast (fresh, but also smoked or dried);
Confit legs and sleeves ;
Confit gizzard ;
Les rillettes et graisserons (or more commonly titiouns or titions, the Gascon word for grease)…
Whether it's duck, chicken or beef, the most popular way to serve meat is with potatoes cooked in duck fat, or even porcini mushrooms.
The Landes plate, a must-try dish
One of the most famous dishes in the Landes region is the "assiette landaise", featuring asparagus, corn, pine nuts, Bayonne ham (three essential Landes products), slices of smoked or dried duck breast, gizzard confit and foie gras.
The Landes: birthplace of Landes pastis and Tourtière
When it comes to pastries, the great Landes specialties are pastis and tourtière (a light puff pastry cake filled with apples or prunes).
Click on the following links to discover the best Landes recipes:
And if you are lucky enough to be staying at the Domaine des Oréades in Sanguinet or to live nearby, settle down at the Table du Domaine des Oréades where Laurent and Christelle will prepare the best Landes specialities for you :-)!!!
photo credit: ║Dd║