Our Cottages to rent for your stay in the Landes
Standards
Treat yourself to a wonderful vacation by renting a cottage in the Landes!
The Domaine des Oréades, located in Sanguinet, offers cottages surrounded by nature and bordered by vegetation in the heart of the Landes forest.
Cottage in the Landes :
3-flower range
Dimensions
When you rent a Cottage from the 3–flower range for your camping vacation in the Landes, you benefit from a living area of between 18 and 40 square meters, giving you all the space you need to enjoy your holiday.
Number of people and rooms
1 to 3 rooms are available for couples or families, to suit your needs. These cottages are suitable for 2 to 6 people.
Equipment and services
Your Landes cottage is equipped with reversible air conditioning for maximum comfort. There's also a well-equipped kitchen, a comfortable living room and a terrace with table and chairs. Share good times in your vacation rental in the Landes and enjoy the outdoors too. Immerse yourself in a soothing universe for a peaceful night's sleep.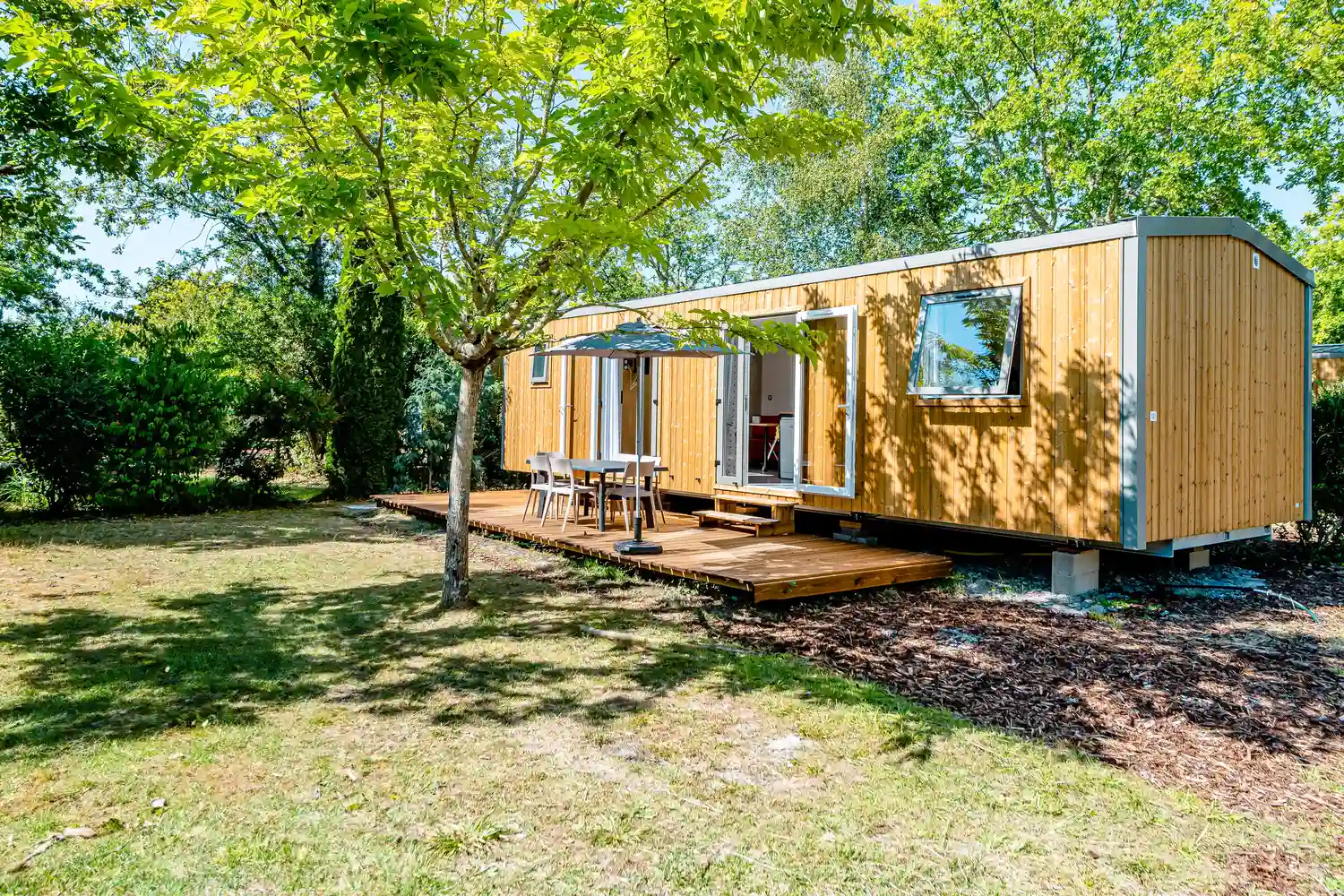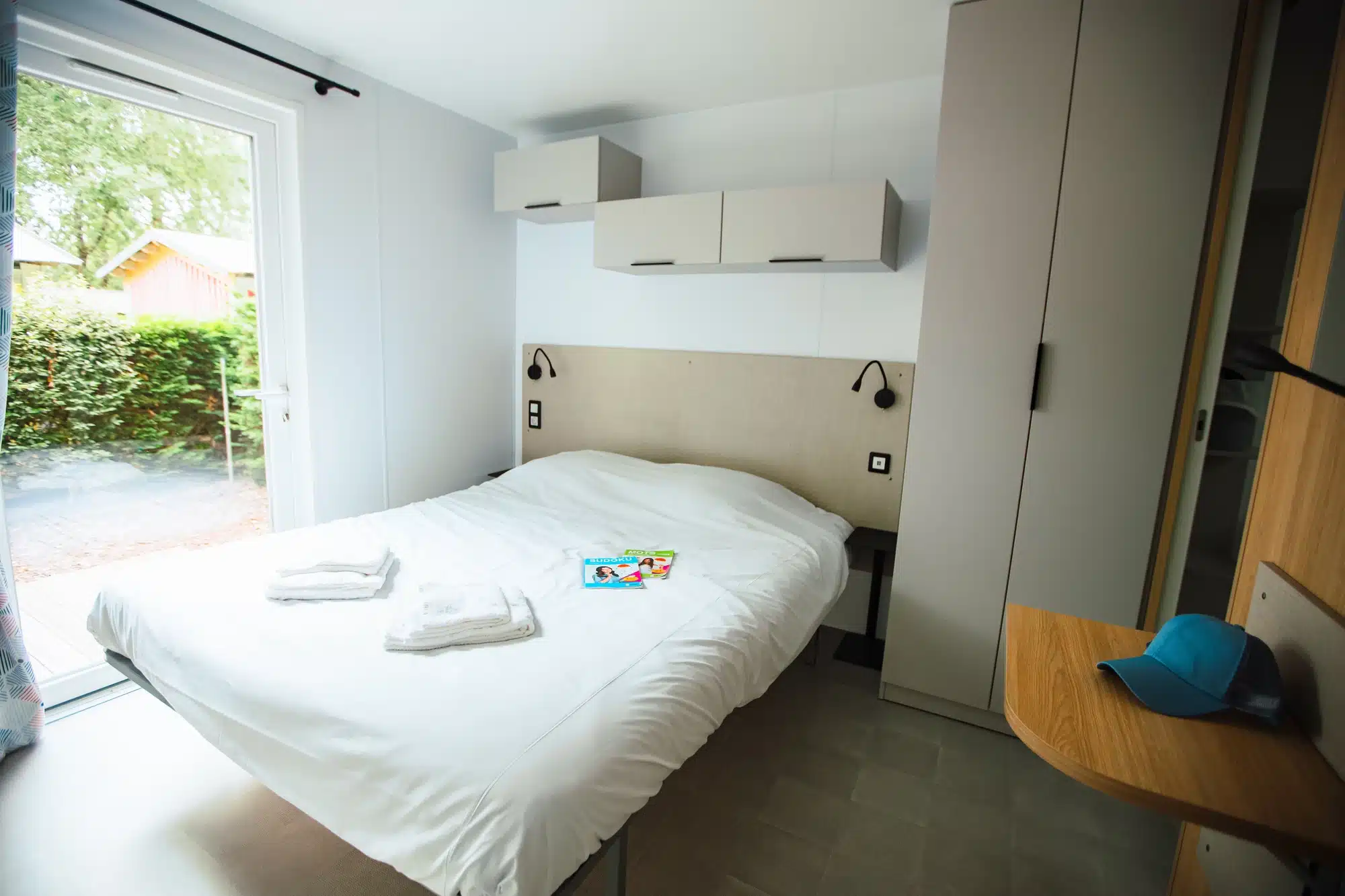 You'll notice a difference in the range of services offered and the presence of certain accessories and equipment. For the 3-flower range, please note that comforters and pillows are supplied, but sheets and towels are not. Also, end-of-stay cleaning, wifi connection and baby kit are not included. However, you can still use our services to call on our team for the services and rentals of your choice.
Decoration
Particular attention is paid to each cottage, such as cosy decoration with natural materials in the bedrooms and other rooms of this cottage/mobil-home.
Environment
Each rental at Domaine des Oréades is set in the heart of nature, surrounded by Landes pine trees. Our rental cottages in the Landes region are laid out uniformly throughout the estate. The 3-flower cottages are located close to services, restaurant and swimming pools. Lac de Sanguinet with its beach and Caton beach are also just a short stroll away.
Our campsite
in the Landes
Domaine Les Oréades is located in Sanguinet, on the shores of the lake of the same name. Staying in the Landes for your vacations is a guarantee of a holiday surrounded by nature, close to a lake and the Atlantic Ocean. On the Les Oréades estate, the pines provide shade and the immediate proximity of Lac de Sanguinet means you can cool off at any time of day, in the heart of nature. The town of Biscarrosse is less than 30 kilometers away. Here you'll find the fine sandy beaches for which the Landes region is famous.
Our campsite not only has cottages to rent for your stay in the Landes region, but also an aquatic area. 4 swimming pools are at your disposal. The main pool and indoor pool are heated. There's also a Balneo pool with whirlpools for adults only. Finally, a paddling pool next to the main pool will delight the little ones. An aqualudic area with water jets lets children play and cool off.