An unusual night just a stone's throw from the Bay of Arcachon
For an unusual night close to the Bay of Arcachon, rent an atypical accommodation in the Landes, 20km from the Bay of Arcachon. The fishermen's cabins offered by the Domaine Les Oréades campsite let you enjoy a unique experience between lake and forest, close to the sea.
Our estate 20km from the Bay of Arcachon
Located in the north of the Landes region, the Domaine Les Oréades campsite is in Sanguinet, just a few meters from Lac de Sanguinet.
This 5-star campsite in the Landes region, located near the Bassin d'Arcachon, offers accommodation for an unusual night, as well as more classic but modern and charming accommodation, as rarely seen at other campsites.
Discover, for example, our mobile homes or our accommodation with jacuzzi/spa. You'll love its proximity to Lac de Sanguinet, its 4 swimming pools and its children's play area.
Our atypical luxury homes 25 minutes from the Bay of Arcachon
Our proximity to the Gironde, Cap-Ferret and the Bassin d'Arcachon has become an asset for us. Unusual lodgings, resembling the "cabanes tchanquées" of the Arcachon Basin, are available for rent.
Enjoy an unusual vacation and spend an unusual night near the Bassin d'Arcachon by renting one of our atypical cabins. Available in different sizes, choose the one that best suits your needs. Near the lake, find the ideal setting and the services you expect from a 5-star campsite near Arcachon to make your vacation a success.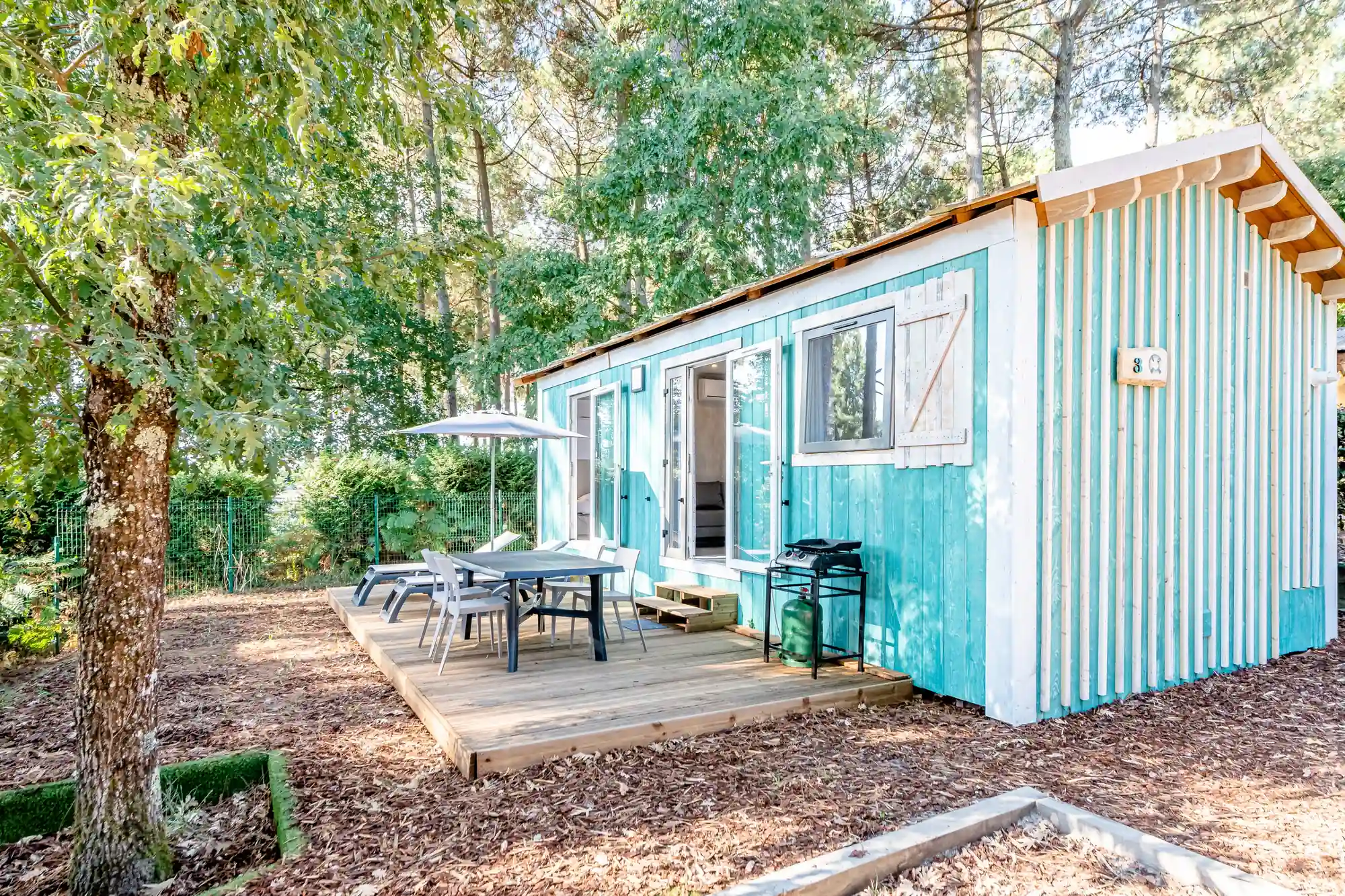 Full details of these unusual accommodations near the Bay of Arcachon
Stay in these unusual cabins in the Landes region, fully functional and easy to live in, both indoors and out.
Comprising 2 or 3 bedrooms, they can accommodate up to 6 people. Here you'll find everything you need for total rejuvenation in the heart of lush natural surroundings in Les Landes. Enjoy hotel-like comfort.
The cabins have separate WCs, and most have 2 bathrooms. For even greater comfort during your stay, these accommodations have reversible air conditioning.
In these atypical homes, surrounded by woodland, discover a cosy, warm interior for an unusual night's sleep. Equipped with a wooden terrace and garden furniture, you can enjoy the sunshine in the shade of the Landes pines.
Each pitch has been carefully chosen to give you easy access to the campsite's facilities, but also to facilitate your visit and discovery.