Accommodation for an unusual night in Landes
The 5-star Domaine les Oréades campsite is located in the Landes region, on the edge of the Arcachon basin. The town of Arcachon is 30 minutes from the campsite. Our location is ideal for discovering the Nouvelle Aquitaine region, between the Landes and Gironde departments, not far from the Dune du Pilat. Just a stone's throw from Lac de Sanguinet, discover this unique estate surrounded by trees, between nature and sand, under the Landes pines. The promise of a superb stay and an unusual night in the heart of the Landes.
Domaine in the heart of nature to spend the night in the Landes
You'll be seduced by the natural surroundings, for a vacation that combines pleasure and relaxation. Let yourself be carried away and enjoy your waterside vacation.
At our 5-star campsite in the Landes region of France, everything is in place for you to enjoy a superb stay. In the midst of nature, under the trees and pines of the Landes region, enjoy this relaxing environment with family and friends.
Domaine Les Oréades has it all: 5-star services, children's club, several swimming pools, quality accommodation… all just a stone's throw from Lac de Sanguinet, in the heart of the Landes region.
Spend an unusual night in the heart of the Landes region
Fishermen's huts: our unusual accommodation in the Landes!

This highly sought-after accommodation is directly inspired by the "cabanes Tchanquées" you can find that you can discover off Arcachon, near Île aux Oiseaux. These cabins, architectural marvels built of wood and towering above the sea, are a must-see landmark when you're in the region.
The estate was inspired by this idea, and now offers this type of unusual cabin for overnight rental.

Treat yourself to an unusual night in the Landes, in these cabins set in the heart of the Landes, under the pines, but close to Arcachon, where you can observe them.
In these unusual 2 or 3-bedroom accommodations in the Landes region, measuring between 35 and 40 square meters, you'll discover a spacious and typical space, open to nature.
Beautiful openings onto the wooden terrace let you enjoy nature. The icing on the cake is that some cabins have their own private Jacuzzi. Ideal for disconnecting and spending an unusual night in the Landes.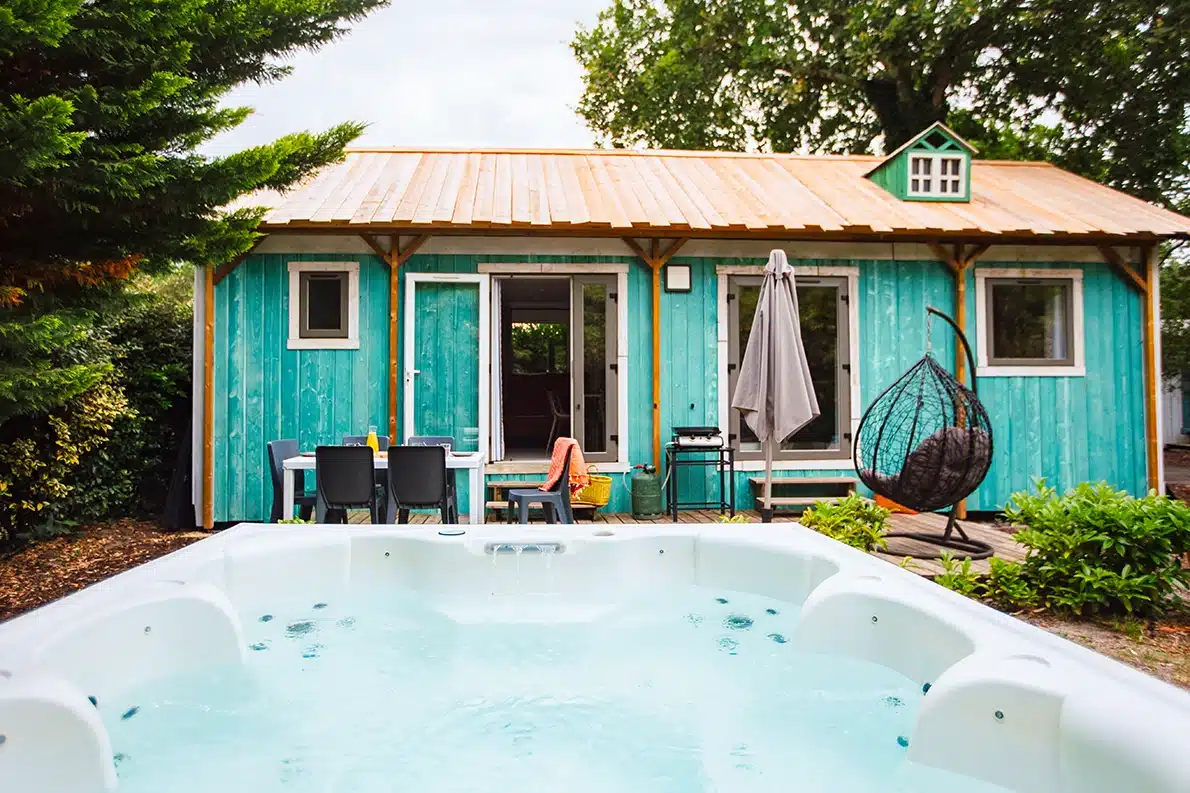 Discover other overnight accommodations in Landes
For your accommodation, the Domaine offers other quality accommodations, each with its own identity.

The Domaine offers 3 types of accommodation classified by range: 3 flowers, 4 flowers and Premium.

What makes them different? Mainly square meters and equipment.
In addition to cabins for an unusual night in the Landes, 2 other types of accommodation are available to provide the change of scenery you need:
Just as spacious but less unusual, our mobile homes are at your disposal. With a surface area of up to 72 square meters, several formats are available for large families. You can also choose to have a view of Lac de Sanguinet or a private Jacuzzi to enjoy a moment of relaxation before spending the night in your accommodation.
The Jardin des Pagodes apartments are located in the upscale Domaine Les Oréades neighborhood. This part of the campsite is entirely pedestrianized and beautifully landscaped. Intimacy, serenity and harmony are the hallmarks of this neighborhood. You'll almost feel like you're in a hotel! These pagodas are modern and really stand out from the usual accommodations at other campsites. Let yourself be seduced by this unusual level of hotel-style service.
For maximum comfort, all accommodations are equipped with air conditioning.
Our activities and services at our Landes campsite
The Domaine has an aquatic area with 4 pools and water games for you to enjoy and refresh. A large heated swimming pool is there for the whole family to enjoy without worrying about the water temperature.
A second heated outdoor pool is reserved for adults only. With its whirlpool baths and jets, enjoy a truly relaxing moment of calm.
Children won't be bored, as 2 aquatic areas are reserved for them, in addition to the main heated pool. In fact, your child will be able to take advantage of an aqualudic area called "Aquatoon".
These play structures spray water, ideal for keeping them entertained and cool at the same time. A paddling pool is also available, suitable for younger children.
A restaurant on the Domaine les Oréades is open to all. This renowned restaurant, called La Table du Domaine, just a stone's throw from Lac de Sanguinet, offers gourmet local cuisine.
Enjoy lunch or dinner on the terrace. Themed meals are also organized to offer more unusual dishes.
Our 5-star campsite offers a range of services to make your vacation easier and more enjoyable. For example, there's a grocery store on site.