Here I explore, I discover, at my own pace and according to my own desires…
Don't miss any of the Landes' must-sees for a unique experience.
Explore neighboring towns such as Biscarrosse, as well as the coastline with its miles of sandy beaches, on foot or by bike. Get off the beaten track and explore the Landes hinterland.
A world of forests, lakes and dunes just waiting to be discovered. The team at our Yelloh Village campsite will be happy to share their best Landes addresses with you.
Yelloh Village in the Landes: artisans of happiness
Your vacation in the Landes at the Yelloh Village campsite will be a memorable one.
A warm welcome, quality accommodation, activities and entertainment, unspoilt nature at your fingertips, an aquatic area with several pools, ponds and a water playground, there's everything you need for an unforgettable family holiday. These are our priorities:
Your health and well-being are at the heart of our concerns
Taking you on a journey
Making your stay a pleasant one with a warm welcome
Offer you sporting activities
Take your mind off routine
Caring for the planet
10% discount on long stays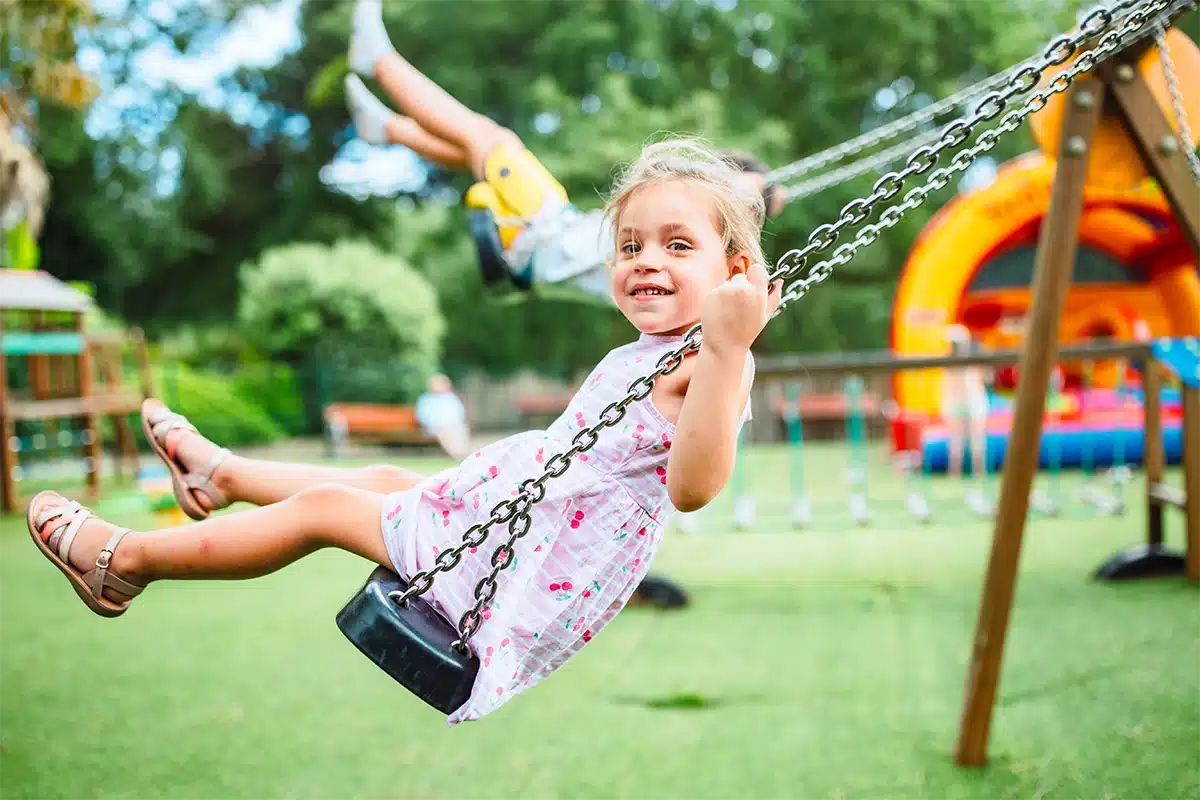 Quality housing
Whatever part of the campsite you choose for your vacation, each mobile home or cottage combines comfort and originality.
Size, number of rooms, location on the campsite, immediate proximity to the swimming pools, choose the accommodation that suits you best, according to your desires. Lake Sanguinet is just a stone's throw from the Yelloh Village campsite, so don't hesitate to ask for accommodation with a view.
What's so special about this Yelloh Village campsite in the Landes ? Fishermen's huts are available for a change of scenery. They are reminiscent of the "tchanquée" cabins you can see on the Bassin d'Arcachon.
Several pools and ponds
Book your vacation at the heart of a perfectly equipped Yelloh Village campsite with several swimming pools suitable for all ages. There are a total of 3 heated pools, one of which is indoors. Ideal for enjoying pools even out of season.
A children's area with water games is set away from the main pool to keep noise to a minimum. The paddling pool is just a few metres from the pool and is ideal for young children.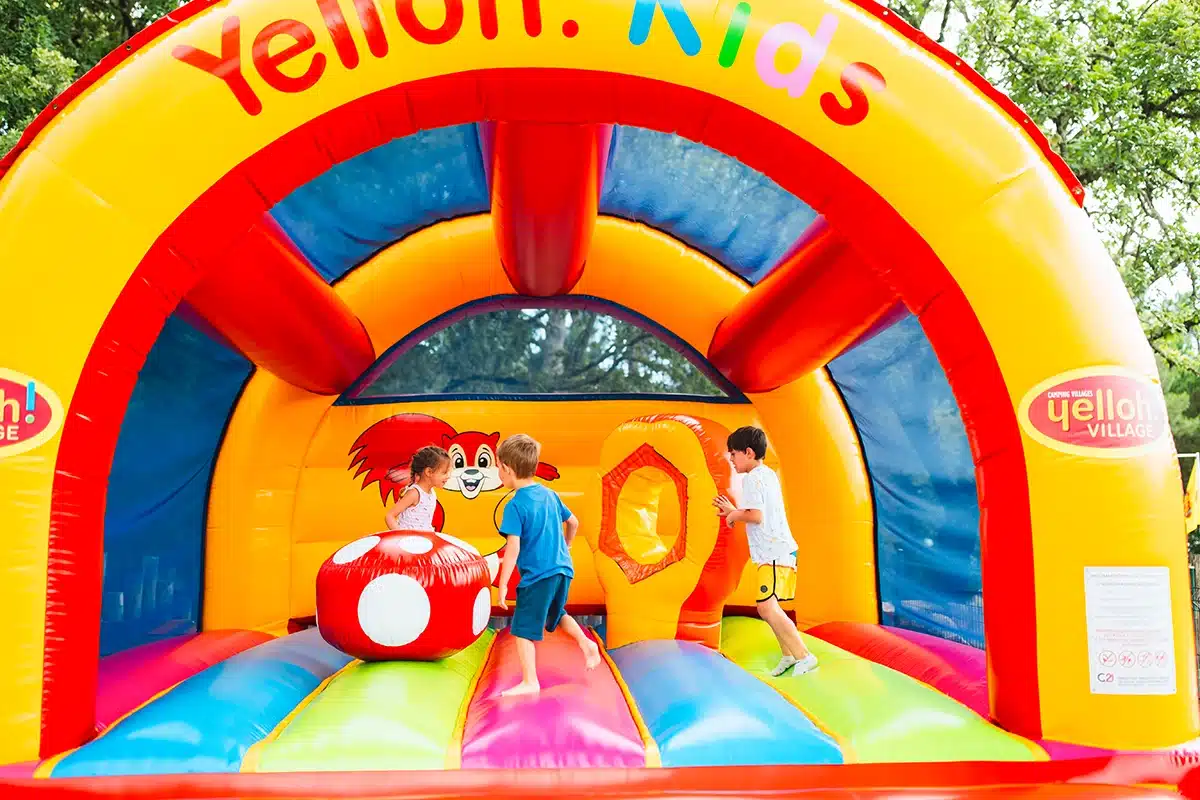 Kids' club
Keep your children entertained at this family-friendly campsite in the Landes region.
Let them enjoy the fun and sporting activities supervised by Yelloh Village campsite entertainers. For them, it's an ideal way to discover the Landes region from a different angle: sports and fun activities such as treasure hunts, team games, orienteering and handicrafts will leave them with lasting memories.
We promise them a holiday full of surprises and excitement.
The Yelloh Village Landes campsite club welcomes your children in age groups: 5-7, 8-12 and teens aged 13-17.
Camping activities
Take advantage of an ideal setting for nature-based fun in the heart of a Landes pine forest. Just a stone's throw from Lac de Sanguinet, discover a privileged setting for forest walks, bike rides or swimming in the lake.
Directly on the estate, take advantage of the various fields (multisport and pétanque, for example) and free activities on offer (water polo, bubble soccer, dance classes, fitness, stretching, aerobics…).
On the shores of Lake Sanguinet, just a few meters from the Yelloh Village Landes campsite, several water sports activities are available at the cabane.
Bicycle rental near the campsite (available on site if you wish) lets you explore the Landes directly from the Yelloh Village campsite.
The entire team is at your disposal to tell you more about our activities and entertainment.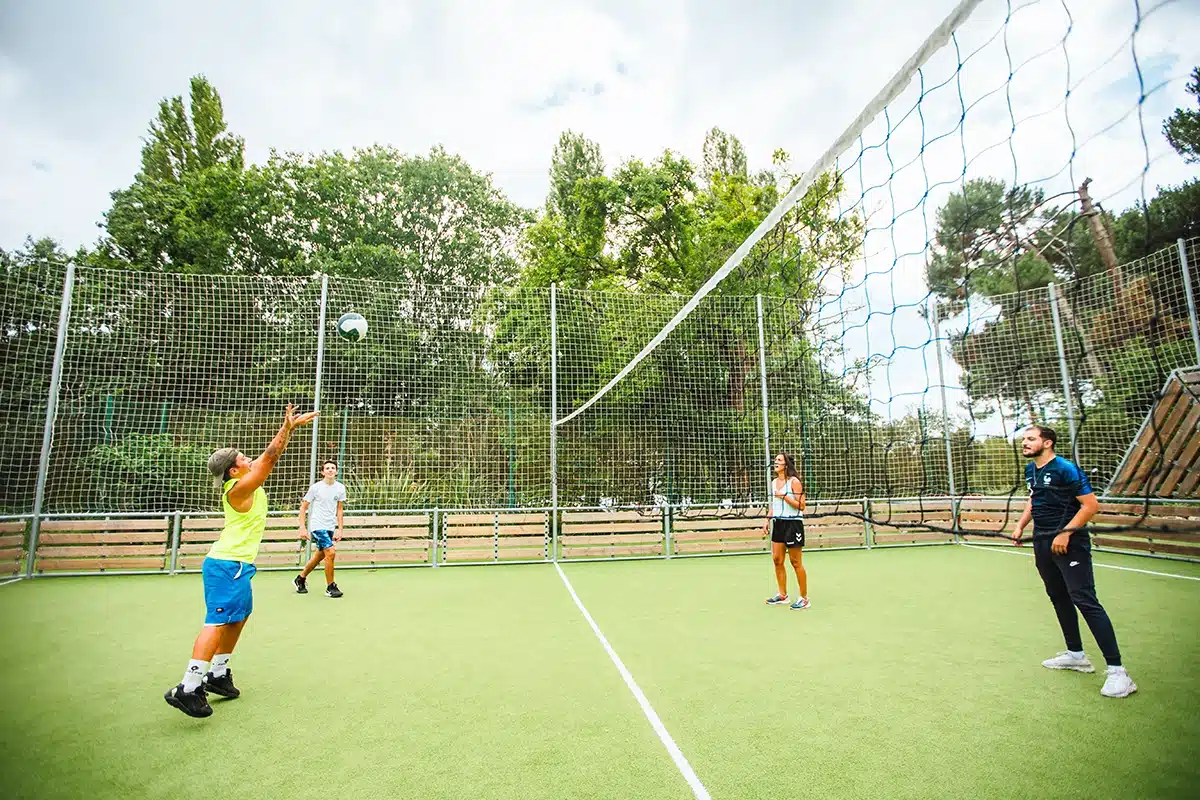 The restaurant at Domaine Les Oréades – Yelloh Village Landes
La Table du Domaine offers you the flavours of the Landes region through quality local cuisine. Take advantage of your stay to sample typical Landes dishes or more classic takeaways that will tantalize your taste buds.
Our restaurant at the Yelloh Village campsite in the Landes region showcases local and seasonal produce.
The restaurant
The equipment
Yelloh Village in the Landes offers a wide range of facilities for young and old alike.
Aquatic area with several pools to suit all ages (including a Balneo pool accessible to over-18s only), two children's play areas with or without water, ping-pong tables, boules pitch, multisport court for volleyball or tennis, close to Lac de Sanguinet and the cycle path that starts at the campsite… there are plenty of facilities and activities on site, on the Yelloh Village campsite in the heart of the Landes region.
Camping Yelloh Village services, in the heart of the Landes region
Don't miss a thing at the Sanguinet campsite in the Landes. You'll find all the services you need to make your stay a success.
You have wifi, a grocery store, bar and restaurant with takeaway, breakfast service, laundry, various equipment rental (baby kit, linen kit for your mobile home, plancha or barbecue, bicycles)…
Our services